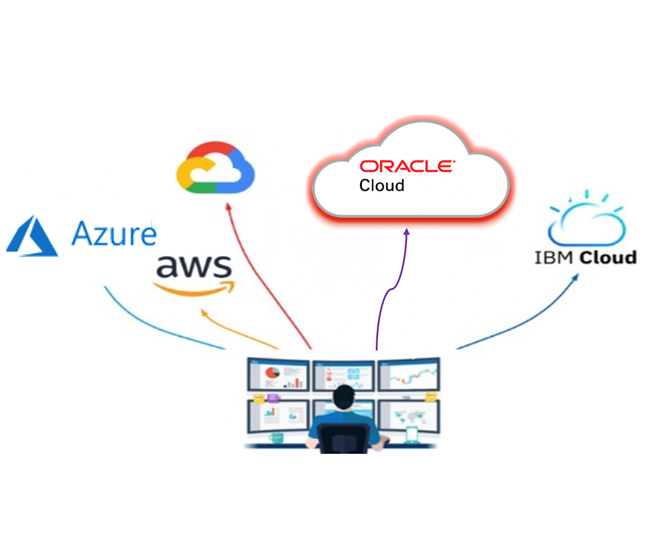 The technology market is moving into the cloud. Taking the analogy of the real world clouds, a cloud- is an in-demand platform to store data, utilize resources and connect offices located in different geo-location. Name the service you need on this platform and you shall have it, companies deploying their infrastructure to individuals storing their simple data, big 4 to a small single user, everyone is using the cloud managed services. Majorly, there are only 3 monopolizes in the market Amazon- AWS, Microsoft- Azure, and Google- Google Cloud. To understand cloud management, we would have to like at different types of cloud-
Private cloud- Cloud managed service exclusively for an enterprise's use without any share-out to anyone. These clouds are typically big holding a large amount of data.
Public cloud- Cloud managed service provided by an organization for its clients and user, for their use or can be used by a team. Example- small storage provided by Google to all its email holders.
Hybrid cloud- With the trend, some organization provides a part of their cloud to its user and keep some for their use from the big size of the cloud. Sharing the cloud for internal and user use but with strict policies.
With the cloud space being so big and daily usage, the process of managing this cloud is not only tedious but complicated, without proper care, it could even hamper production. We Silver Touch Technologies, with our expertise in cloud management provide our services for the same, taking the load off our clients' shoulders for them to focus on core workload.
Cloud Management
Companies are thriving to improve their cloud platform; you need it to be managed efficiently. We Silver Touch Technologies help you to achieve that efficiency. With our expertise in cloud management, your cloud platform will have better performance and more reliability.
When we do your cloud management adhering to policies it can contain the cost and also better technical environment sustainability. Using performance optimization tools will so improvement in the application during runtime. And, we also use environmentally sustainable strategies on cloud architecture to lower energy consumption. In the end, decisions for cloud management hinge on organization policies and priorities, also their adherence to providing the service promised to its clients.
Cloud Managed Service Goals
To increase the cloud efficiency as promised to our client, we adhere to the set of policies in the individual department of cloud performance. These help us to achieve the goals in the following department
Cloud Automation
Automation, referred to as orchestration reduces or eliminates repetitive manual work. This reduces the chances of human error and increases operational efficiency and accelerated the deployment of applications or products.
Security
A major issue in the present technical environment. With the increase in the number of cyber-attacks, it has become crucial to update security techniques, policies, and devices from time to time with the latest updates. The increase in the use of cloud brought the keen eyes of hackers on platforms, we take responsibility for the security of your data on the platform with cooperation from your side. We use cloud best security practices and configuration for automatic security patch update of any service, real-time logging, and access management.
Governance and compliance
With the increase in cloud usage, policies are updated regularly with strictness. Keeping that in mind, we take governance and compliance very seriously for safe usage. Specifically implementing European Union's General Data Protection Regulation (GDPR) and the California Consumer Privacy Act (CCPA) for use of data that is stored. This gives assurance to clients for the safety of data and provides trust in us.
Performance monitoring
The base of any cloud management is its performance check. Performance management keeps checks on every provision of cloud ranging from storage, applications, network, and computing power for the platform, providing a complied report to keep everything in the top-notch state of performance. Some ways of boasting cloud performance, that we use are autoscaling, caching, microservices, etc.
Cost Management
The cost of cloud would grow exponentially if it is not managed or serviced properly. With our help and control on the management, we can contain the growing cost. Making the use of big cloud in environment efficient and environment friendly.
Silver Touch Technologies, as a trusted IT partner with more than 27+ years' experience, we support our customers through their transformation journey turning market challenges into sustainable growth opportunities. Cloud technologies being the trend, provides immense opportunities for companies to grow, but companies lack in management of the cloud. Silver Touch Technologies give a shoulder to its clients for this service, so they can grow and achieve more.