An IT infrastructure comprises of the different domains along with their different responsibilities which are required to be monitored and managed. We will provide you with our best IT help desk services which will be available for our customer's comfort to resolve IT infrastructure related issues, so their companies do not suffer due to IT issues. Our expert IT teams with exceptional departmental knowledge will work for you at the speed of light to ensure the eradication of the problem as soon as possible. Several facilities may be provided by our IT help desk services such as;
SLA Management & Reporting
Vendor Management
Tool Integration
Asset Management
Workflow Automation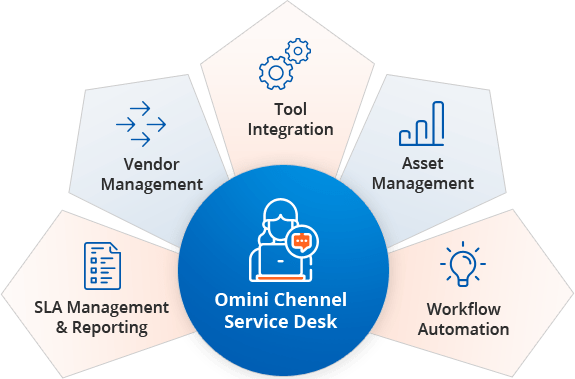 SLA Management & Reporting
Bond of trust must be kept firm, therefore our company has laid great emphasis on SLA management and reporting. Services must be managed to take the customers' requirements placed in the agreement under consideration, our IT help desk services will be available 24/7 to ensure that the service level agreements are followed and maintained, which will, in turn, be reported to our customers to make the bond of trust constant. Reports configuration will only take place if the customer is satisfied. As our utmost priority is customer satisfaction.
Vendor Management
The service of vendor management will also be provided by us. The contractors of the customers will be kept updated about the schedule so that our customers do not face any delays. Our IT Help Desk Services will provide customers options of different suppliers along with the negotiation processes, prices may also be regulated with the help of our team which will, in turn, reduce the merchant risks and guarantee service delivery. All these vendor management operations will be carried by our experts to free our customers from vendor-related tensions.
Tool Integration
Tool integration is a strategy for using variation in continuous verification tool abilities, both inside the same class of tools and between categories of tools. We will provide you with the best strategies to use the tools which will benefit your company with exceptional outcomes. The IT desk service will allow simplifying the data of the infrastructure with the help of different tool usage strategies to improvise information integration in the department. The process of information integration will be carried out by our expert team members of the IT Help Desk Services. We will also provide you with the software of best-integrating tools for the determination of the data.
Asset Management
The process of producing, running, preserving, and raising capital is referred to as asset management which will be entirely our responsibility. We will provide you with the service while identifying the cost and making it cost-effective. On behalf of our customers, we will look after their asset management and their issues. We will handle funds on behalf of our customer's businesses keeping our customers at ease. We may execute well-timed financial decisions on our customer's behalf to enhance their money and portfolio.
Workflow Automation
When a sequence of simple tasks is automated, they become more efficient and less time-consuming. The automation of complicated business processes assists organizations in improving performance, lowering operational costs, and increasing transparency. By developing sophisticated automation for business processes, we assist organizations in becoming strategic enablers of their business operations. We provide the following services as part of its Corporate Process Automation solution:
Sequential and Parallel Processes
Task Administration
Notices and Alerts
Clearance or Refusal procedure
As a trusted IT partner with more than 27+ years experience, Silver Touch support our customers through their transformation journey turning market challenges into sustainable growth opportunities.