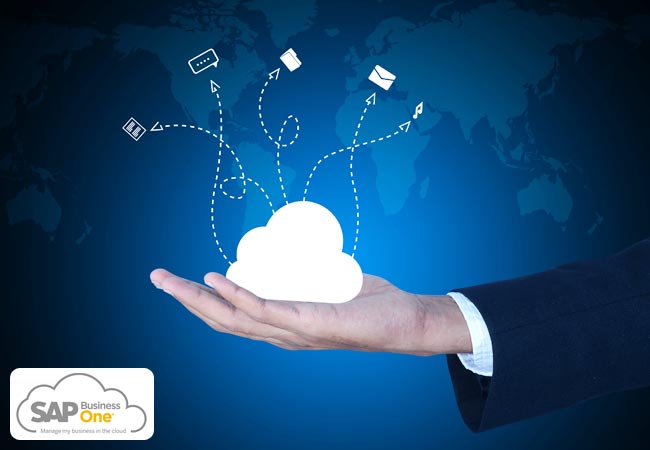 An individual, affordable solution to handle your small business – from the accounting system and financials, purchasing, stock, sales, and client relationships to accounting and analytics. Take greater control across your business concern or subsidiary with SAP B1 on Cloud. Streamline significant processes, gain more extensive insight into your business enterprise, and create decisions posted on real-time data – and so you are able to drive profitable development.
On-premise or cloud deployment
Incorporated business intelligence
Integrating with the SAP HANA platform
Flying deployment
Application on Cloud and its Benefits
Cut down TCO
You no more have to purchase a lot of equipment for an alternative site and pay for ascents, expansion, and transposition. The utilization of cloud models cuts down the TCO, creating it much easier and less pricey for your teams to deal with disaster recovery and business concern continuity.
Adopt OpEx
Magnates and IT administrators are searching for shifting aside from a CapEx model to an OpEx one. You are able to cut down costs and have certain expenses although utilizing elastic scalability. This process helps you avoid overprovisioning resources and paying up for useless infrastructure.
Speed-up Recovery and Belittle the Risk
Copy business-critical applications and information in an off-site location that is fixed and enables fast recovery. With the excellent cloud solution, you are able to accomplish this goal at a fraction of the price of on-premises models, although significantly bettering recovery time objective (RTO) and recovery point objective (RPO) for your SAP application programs.
In addition to that, you will need to have a load-balancing mechanism so that the traffic can be diverted to the operational system. This will make sure that the users get an uninterrupted service and that the performance of the system is not compromised.
Critical reasons why IT teams must urgently count on modernizing SAP B1 on cloud
Need to introduce
Closely 70% of IT administrators say it is imperative to concentrate on original solutions to business enterprise problems. By adopting AI, the IoT, and blockchain technologies, IT teams can best use SAP to get new products, fresh ways of interacting with clients, and early process efficiencies.
Business line influence
Business leaders are accepting a more significant role in guiding IT investments, with less than one-half of business enterprises trusting solely on IT to monetary fund technology purchases. As the business sector adopts digital transformation, business users require that SAP business procedures and information be transformed to generate more excellent value.
Value of information
More than 50% of CEO's state intelligent analytics is their big top driver of development. "SAP databases can able to allow a wealth of unusual insight," according to Frost & Sullivan. "An array of sections and partners will advantage if SAP databases, on prefaces and in the cloud, can be got at by effective analytics engines."
Drive for IT tractability
About 65% of IT administrators utilize the cloud to bring down their hardware and software upkeep burden, although another 61% utilize it to increase IT legerity. You have IT resources that could be best diverted to more strategic initiatives by holding traditional SAP deployments
Benefits of Moving to Cloud
SAP Business One has a few common features that make it different and amazing from the rest of the business organization solutions. Whereas it give the authority to deal all prospects of the business enterprise. Start from Logistics, Accounting, Finance, and Customer Relations, the SAP B1 on cloud solutions offer you with an expanded opportunity to cope the actions in an efficient manner.
SAP B1 Cloud version 10.0 is a lot more imploring solution that eradicates the extra cost and saves up you besets of incorporating standalone applications. This very software's intuitive business user interface has the ability to bring down inefficiencies, allow real-time business data, minimize difficulty level, and permit smooth IT consolidation.
Production Routing: The SAP Business solutions are endued with production routing. This brand-new feature in the early update will be really valuable for business.
Return Merchandise Authorization (RMA) – The RMA as well-known as Return Merchandise Authorization is a brand-new characteristic in SAP B1 cloud. By this feature, a written document is issued to customers who are not lived up to with the product and would like to return it. The RMA will be at once led up through the SAP B1 on Cloud menu.
Project Management Enhancement: The latest feature to adorn SAP is Project Management Enhancement. This feature permits dealings to be attributed to project stages to check the accuracy of the project analysis. As well, the project management module has a GANT graph for best planning and direction.
CRM: The CRM enhancement module in the SAP B1 on cloud solutions simplifies the sales events and service procedures.
User Authorization Management – SAP B1 on cloud Solution as well has an update for a lot of rationalized user scenes. The update as well allows users to alter their authorization mounts independently.
Price list updates: In price listing updates, SAP Business has brought out a price unit through which the pricing of the particulars can be organized without coming back to the stock unit.