Overview
Today, organizations can use the HRMS on cloud from any location, as it is hosted on the servers of an external service provider. In contrast to separate systems, HRMS on cloud allows you to get all of the information you need in one place and with a single click. As a result, there is no need for costly computer infrastructure or ongoing maintenance. In addition, you can choose to pay for the service on a monthly, annually, or quarterly basis.
However, Silvertouch currently offers HRMS on cloud that are simple to adopt and can be mapped to a company's existing HR procedures in response to the constantly evolving needs of HR and the improvements in Smart HR technology.
Silver HRMS Glimpse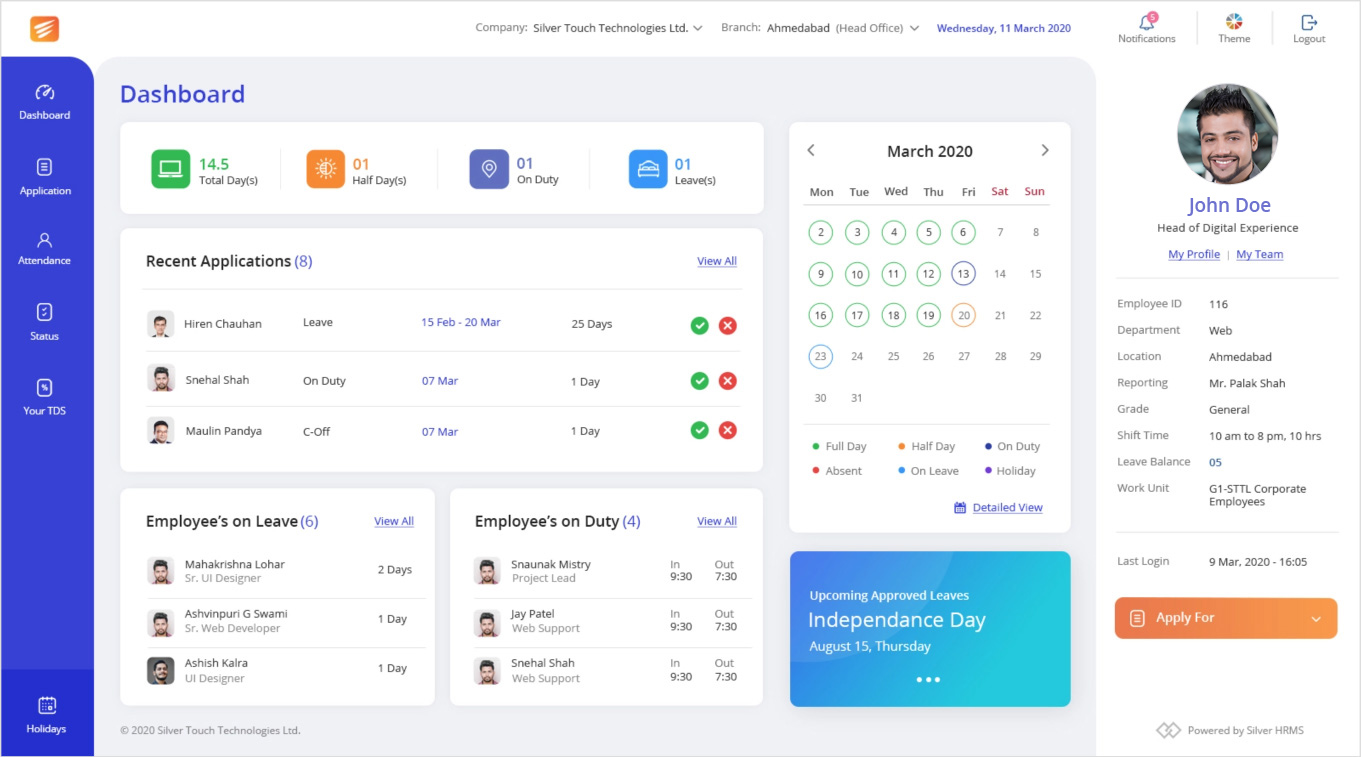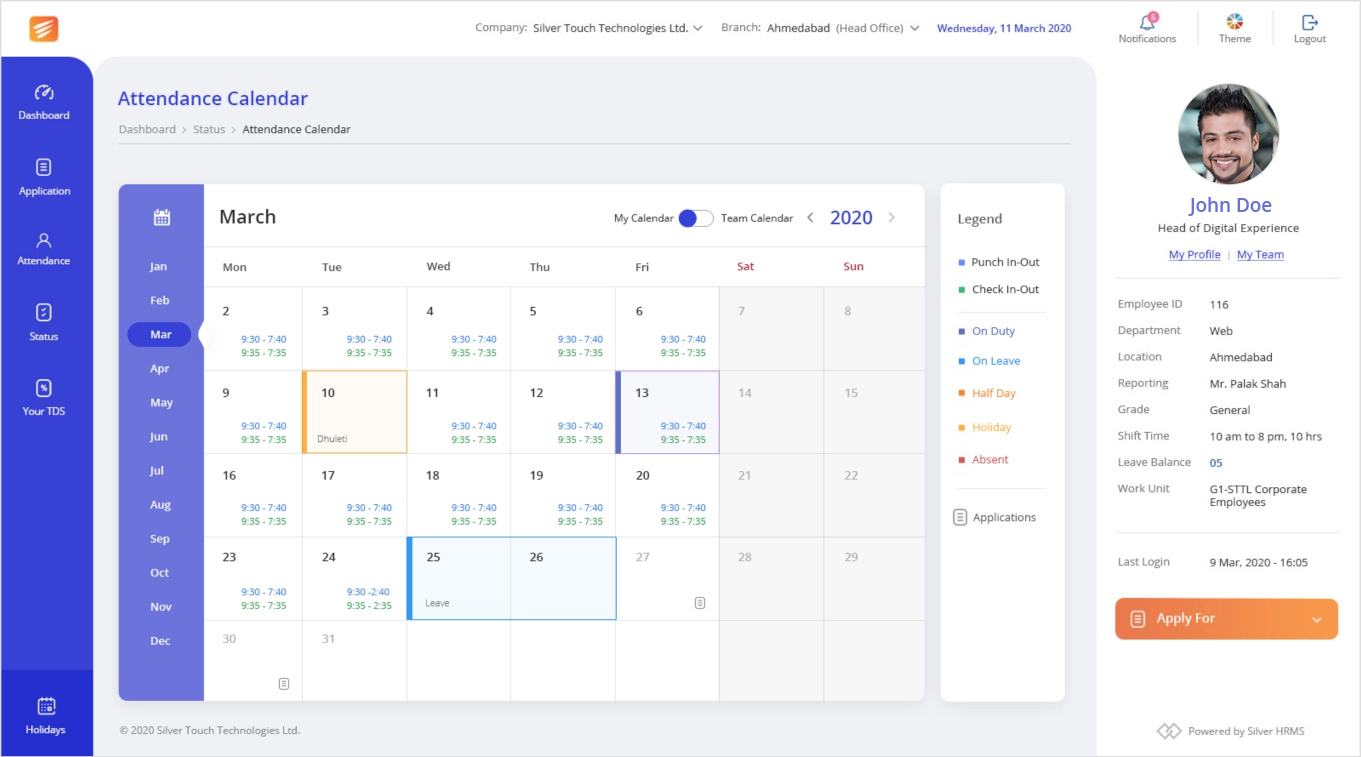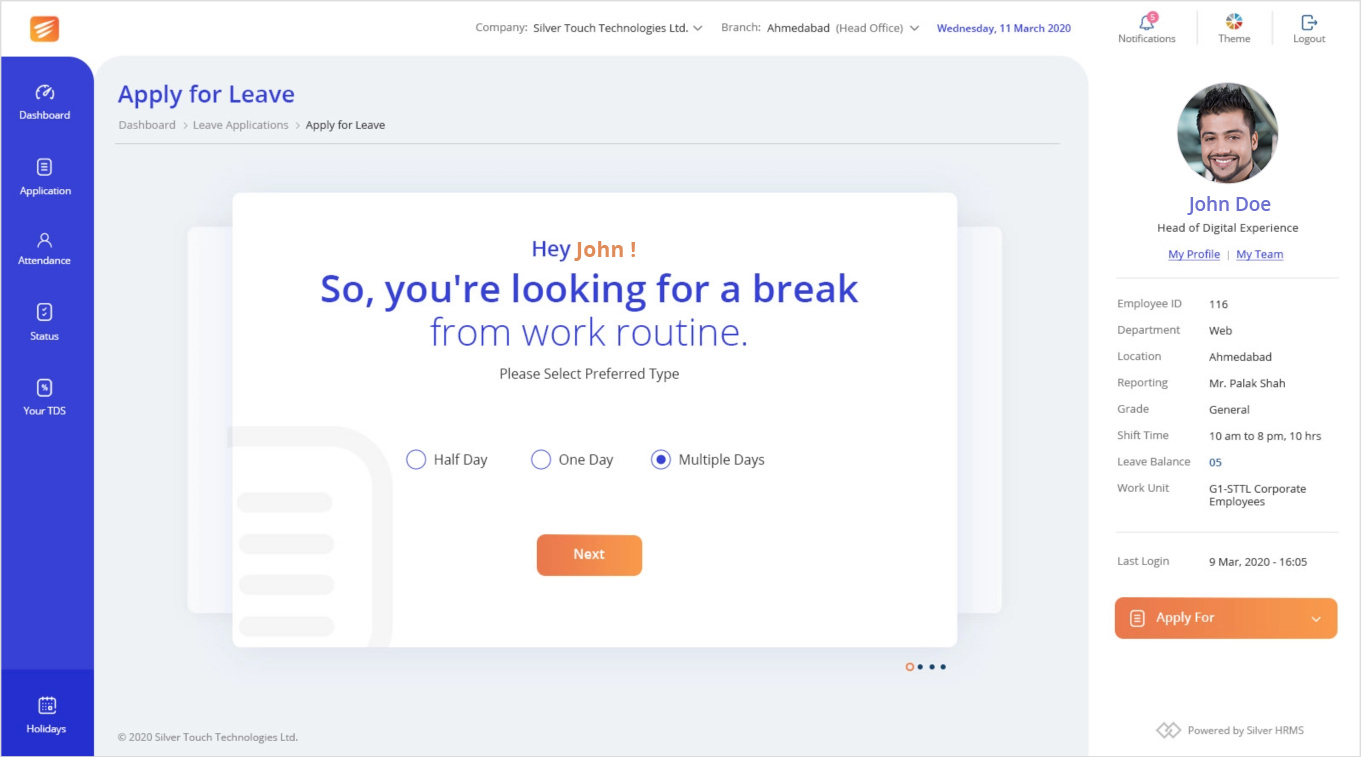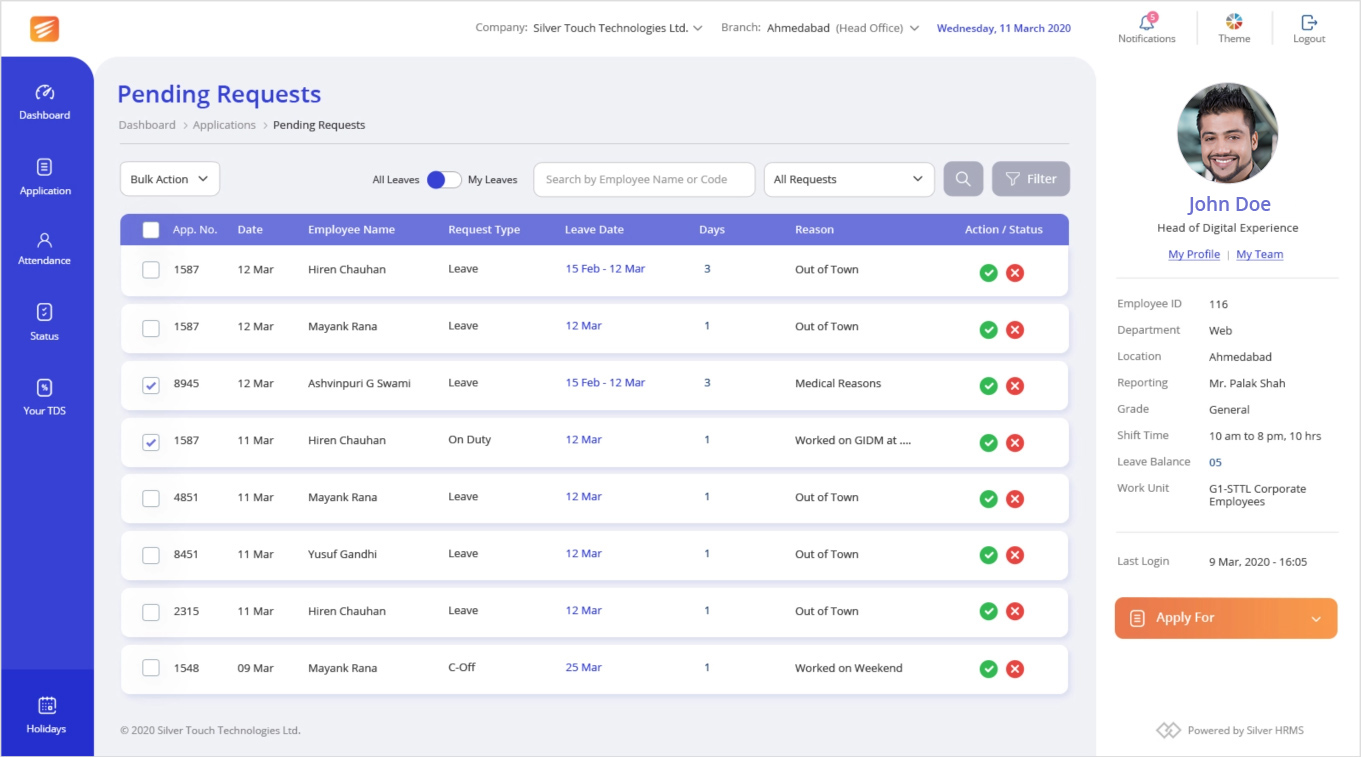 Why choose our HRMS on cloud?
Cloud HR solutions are quickly becoming the preferred choice of HR leaders due to their simplicity, flexibility, and ability to revolutionize HR departments. The following are some of the most important considerations when selecting a cloud-based HRMS:
Effortless setup and management
Cloud HR solutions could be difficult to set up on-premises for any company. It takes a long time, which might cause disruptions in other areas of the company's operation. As a result, businesses choose a cloud-based HRMS that is simple to set up and manage. No additional resources are required to install or maintain it because it is hosted on the internet. It is the responsibility of HR solutions providers to handle the entire deployment process, from IT to customer service.
Access from any Location
Utilizing HR software that is hosted in the cloud provides several benefits, not the least of which is the convenience it provides. A cloud-based HRMS only requires a reliable internet connection to work. Your employees' time and attendance, performance evaluations, and key employee papers may all be tracked and accessed from any location. Similar to employees, they can log in from anywhere and at any time to mark their attendance, request time off, and get their pay stubs. This is a massive benefit of increasingly remote and hybrid work arrangements in today's world.
Available at an Affordable Price
Having an on-premise HRMS comes with a price and you'll have to pay for everything, from software licensing to staff security training. On the other hand, the cloud-based HRMS allows you to pay only for the services that you use. You can pay whenever it's convenient for you. If you go with HRMS in the cloud, you can choose from various payment options, such as quarterly, monthly, or yearly. Cloud HRMS also doesn't require setup or maintenance fees, and software updates aren't overly expensive.
Trusted cloud-based Technology
According to HR leaders, 80 percent of their employees' attitudes toward the company are improved when HR technology is used. As a result, cloud HR software is an excellent choice for companies looking to improve employee morale and productivity. This is because all of an employee's information is available to them at any time. Additionally, it lowers HR bosses' needless interference and gives employees more freedom.
Easy to use and simple Integration
Another benefit of using an HRMS on Cloud is its capacity to grow with your company. If your workforce grows or shrinks, you won't have to buy new software because you're using an HRMS on Cloud. You don't have to do much more than modify your membership options to get started. Because of this, it may be easily integrated with third-party apps or services. You don't have to spend a lot of money to do various tasks from a single platform.
Customized HRMS on Cloud Solution
You need a software or HR management system that can be adjusted to meet the changing business needs because the world of work is continuously evolving. There are many ways to customize a cloud-based solution, and it is straightforward to make changes to the system. Changes can be quickly implemented by contacting your HR services provider. Your business can select only the capabilities it needs from this platform.
Protect Sensitive Security Data
HR managers can't keep an eye on all the sensitive employee and business data they deal with daily. If you lose this valuable information, you could lose a fortune. HRMS on cloud can help you with this. HR software that is hosted in the cloud protects sensitive data against unauthorized access. You don't have to worry about your data security because upgrades are automatic and straightforward. In addition, the system assures that you are using the most up-to-date technology to manage your staff and information.
Join Us
The business environment is changing quickly, and your human resource strategies should also keep pace. Silvertouch provides a cloud-based human resource management system (HRMS on cloud) which specially designed to nurture people, swiftly respond to the changes, and make HR management more agile and productive. With the use of our streamlining HR operations, you can improve employee satisfaction, retain talent, and develop a high-performing staff while putting the employee first.
If you'd like to learn more about HRMS on cloud solutions, our professionals are happy to provide you with their insights. So get in touch with us whenever you need, and we'll be pleased to help!