The human resource department is a backbone of any organization. It manages a wide range of tasks including payroll, performance management, attendance, and more. As organizations grow these human resources-related tasks become more complex. In such a scenario, an advanced HRMS on cloud can lend a helping hand for HR teams.
In this post, we are going to dig deep into cloud-based HRMS software and discuss its top features as well as future trends. Let's start with understanding the concept of having HRMS on cloud.
What is HRMS on Cloud?
HRMS stands for human resource management system. A cloud-based HRMS is a reliable solution hosted in the cloud. It enables companies to access the necessary information related to the HR activities from anywhere and anytime. It eliminates the need for expensive hardware and software installations, and makes it easy to scale the system up or down as per the requirement.
One of the biggest benefits of cloud HRMS solutions is that it can automate various time-consuming and repetitive tasks that HR teams regularly perform. This frees up HR professionals to focus on more strategic initiatives and employee engagement.
For example, a cloud-based HRMS can automate payroll processing and performance reviews. This can save valuable time for HR teams and reduce the risk of human errors. As a result, the HR department can work more efficiently.
Let's go through other big benefits of HRMS on cloud.
Top Benefits of HRMS on Cloud
Cloud-based HRMS is rapidly becoming the preferred choice of HR departments across different companies. It is simply because of its convenience, flexibility, and ability to transform the HR department. Here are some of the major benefits of cloud-based HRMS:
Anytime Access
Users can access cloud-based HRMS from anywhere and anytime using an internet connection. This facility makes it ideal for remote workers and employees who travel frequently.
Reduced Costs
Cloud HRMS software is typically subscription-based, so there are no upfront hardware or software costs. Additionally, there are no installation or maintenance charges.
Data Security
HRMS solutions on cloud employ robust security measures to protect employee data. Some of these measures include encryption, access controls, and regular backups.
High Customization
Cloud HRMS solutions are highly customizable, making it capable to adapt to the changing needs of your business. Also, the HRMS solution provider takes care of its update and maintenance.
Easy to Scale
HRMS software based on cloud is easy to integrate with third-party applications and services, and you can easily scale up as your company's operations grow.
Let's go through some important features of cloud-driven HRMS software.
Key Features of Cloud-Based HRMS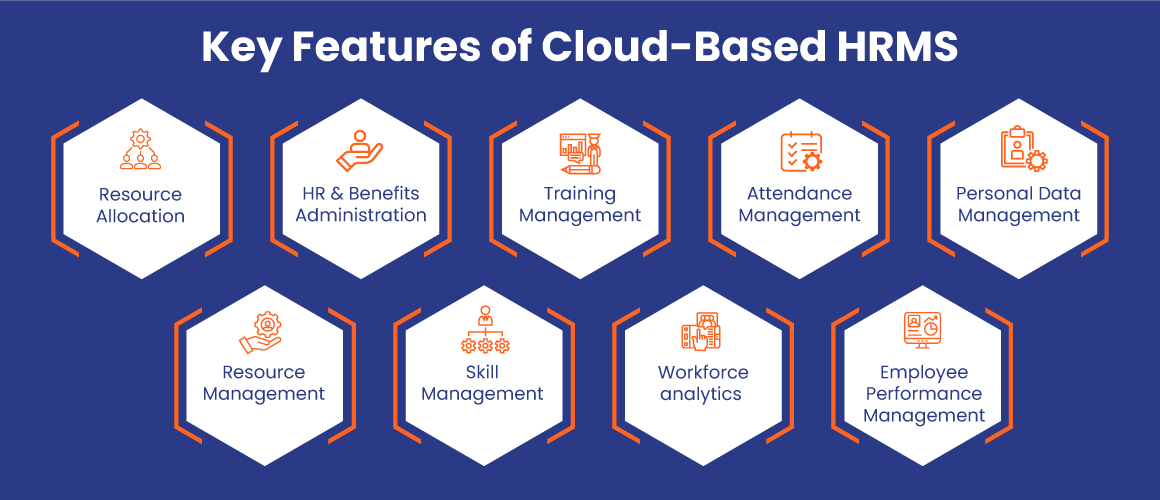 This includes all the data related resources and their experiences. It also includes the employee's professional record. The management can allocate resources more effectively based on these records.
HR & Benefits Administration
This includes features for administering and managing total rewards programs, such as compensation and benefits, performance management, and recognition or appraisal.
This includes features such as recruitment and onboarding, succession planning, and training and development. These features bring automation in multiple activities related to the hiring process.
This includes the information related to the employee's paid and unpaid leaves and time logs. It is useful for the year-end appraisal process and measuring the employee's overall performance for a specific period.
This includes the management of personal data of employees including their account details, addresses, etc. It can securely store confidential data of your team members.
This includes features such as recruitment and onboarding, succession planning, and training and development. It enables the company's management to develop skills and allocate resources more effectively.
This includes features for providing employees with the tools and resources they need to develop their skills and careers. It can assist your company to upgrade the skills of team members and increase their productivity.
This includes features that provide insights into the workforce, such as performance trends, employee engagement, and diversity and inclusion. These features give a clear picture of diverse work culture.
Employee Performance Management
This includes features such as employee database management, payroll processing, time and attendance tracking, and performance management. You can measure KPIs and other indicators based on this data.
We can expect addition of new features with some interesting trends. Here is a glimpse of future trends of cloud-powered HRMS solution.
Future Trends in HRMS on Cloud
Some of the future trends for cloud-powered HRMS software are-
It is aimed at identifying and nurturing top talent, as well as matching employees to the right roles.
It provides organizations with valuable insights into their workforce, such as performance trends, employee engagement, etc.
Total rewards programs can include everything from compensation and benefits to performance management and recognition.
Cloud HRMS solutions help organizations create a positive and engaging employee experience, from onboarding to retirement.
By implementing these trends, we can expect HRMS solutions to become more intelligent and advanced in the future. This will allow HR professionals to focus on more strategic initiatives, such as developing and implementing talent management strategies.
Why Choose Silver HRMS?
Here are some top reasons why you should choose Silver HRMS:
It is easy to establish and manage
It is accessible from anywhere
It is cost-effective
It uses trusted cloud-based technology
Our team of experienced professionals strive to add features that can effectively address challenges of the HR department.

Conclusion
Cloud-based HRMS software can help HR managers to be growth enablers by streamlining HR processes, improving efficiency, and providing valuable insights into the workforce.
HRMS on Cloud offers a number of features including talent management, workforce analytics, total rewards, career development, and employee experience. With ease of setup and managing, HRMS software remains accessible from anywhere. This makes it ideal for organizations with remote workers or employees who travel frequently.
Overall, cloud HRMS solutions remain helpful to modern organizations to improve their HR operations and achieve business goals with sustainable growth.